Featured Specials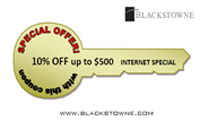 Call today for details about our SUMMER SPECIAL!

Ask about our multi-generational designs. We are a certified aging in place specialist (CAPS).
New! Discounts on telecom services for your home or business.
place cursor over image to pause slide show


We have solutions!
Blackstowne is all about maximizing value while helping you create perfect spaces for living and working. We specialize in unique projects requiring extra care and planning. We bring over fifty years of combined experience to new custom home design and construction, renovations, additions, land development, and commercial construction and upfits. To us, building is an art form - the opportunity to help you achieve your goals and dreams for your home, business or investment property.

So, whatever your construction need, contact us today to discuss your project. We will meet with you for a free consultation to discover how we can help you turn your plans into reality.